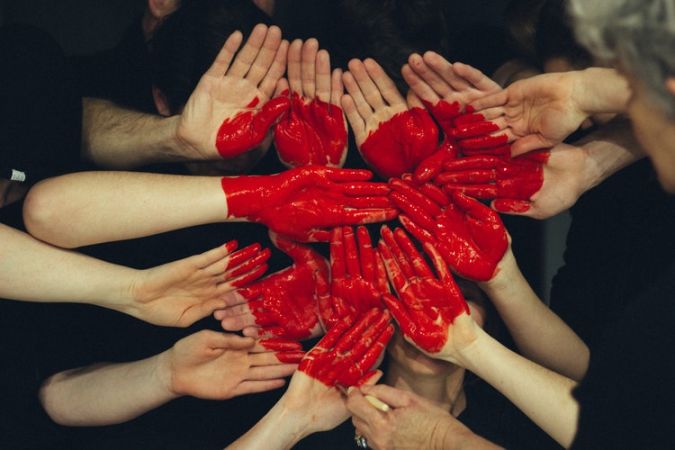 We held our Messy Church event a couple of weeks ago. We do Messy Church 5-6 times a year with a great team of creative people from the church. Messy Church - for those who may not know - is a family-friendly way of exploring the Christian faith in ways that may be less familiar to the way that people normally expect church to be. There are always crafts to make and take home, games to play, songs and a talk, and a meal to share together while chatting across the table. All of this is very child friendly but in a way that all ages can get involved.
What particularly struck me this time was the number of families who came who also came to other activities we host in the building. Some had children who were part of our daily pre-school (Mustard Seed); others came to the weekly Wednesday parent and toddler group (Moonbeams). We felt like a smaller community (young families) within a larger community.
People go into churches for lots of different reasons. Some to explore serious questions of faith searching for answers to life's great mysteries. Some people come because they know that something in their life is not right; things are not as they should be, and they want to put it right if they can. They feel guilt or shame and want to be free from it: maybe the church and the Christian faith can help?
And some people come to feel part of a welcoming and loving community; a community with common interests and shared experiences of life; a community that welcomes them and accepts them. People come so that they can feel part of something and not nothing. We normally become better humans as we learn to love and relate to one another generously and not selfishly.
Maybe a part of this is that the church community is a community that is shaped by an ancient story that has somehow stood the test of time in all corners of the earth. The Christian community is shaped by the generosity of God; a generosity that it best told in the story of Jesus. This welcome of God accepts us and then, by simple faith and trust in God, gently transforms us to be more human, more loving and kind, recovering our true human dignity with humility and hope. To be part of a community and not to be alone is one of the great human desires. You can even find it - I am told - at Messy Church!
Life is messy, no matter how good you are at appearing to be 'tidy', we all have things that we would rather keep out of sight! Church is messy because it's full of people who once came with questions and struggles and fears and failures and guilt and shame or who were just looking for a friend or something to enjoy with the children. In the end they found a community where they are loved and accepted by other messy people, but mostly they found that the God they had always hoped for is to be found in Jesus, who can still be found when you go to church.